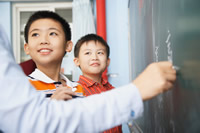 UNITE Education and its renowned team of experts represent several decades of demonstrated success in defining, developing, and leading education organizations of scope, and educational products and systems of widespread impact. As "pioneers" in the preK-12 and post-secondary sectors, we have implemented change across nations, providing new learning environments and developing products that represent the union of state-of-the-art technology and educational theory with sound pedagogy.
The products developed include online curricula focused on the development of higher-order thinking skills; assessment programs aimed at appropriately guiding and focusing instruction; sophisticated learning management systems which monitor and report on student progress; along with web-based communities and student information systems.
Our services range from multi-site governance and management of the largest national school system in the United States to individual classroom services in answer to a diversity of children, cultures and countries. UNITE's core team and key associates have successfully answered to the requirements of students, educators, parents and other key stakeholders across multiple platforms, and understand the language of the learning community through our role as both proven leader and willing student.
UNITE Education blends a unique set of backgrounds, experience and contacts in supporting your efforts in the pursuit of educational excellence as a pre-requisite to social and economic prosperity, and its long-term sustainability.